About Destiny Casket
We manufacture high quality caskets and other funeral accessories,and distribute at wholesale prices to funeral homes and funeral product distributors throughout North America.
Value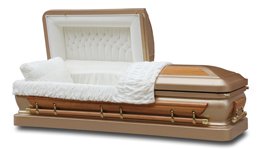 Our emphasis on value through bulk pricing results in huge savings for your business. These savings translate into increased profit margins and a competitive advantage in your local markets. Find out how you can cut your annual costs by $50,000 or more. See FAQ web paeg.
Quality
Our caskets and other funeral home accessories are manufactured to highest quality standards in manufacturing facilities. State-of-the-art Quality Control methods enable us to deliver quality funeral products to your funeral home or distributorship at lowest possible prices.
Customer Satisfaction
Our products are designed to support funeral professionals as they help families create meaningful funerals to celebrate and honor their loved ones. We provide the personal touch to make sure you and your customers are a satisfied with our products and with our service. Our goal is to exceed your expectations in everything we do.
". . . Our Destiny Is to Pursue Excellence in Funeral Home Products . . ."
Destiny Casket Phone: 408-850-0082 E-mail: destinycasket@yahoo.com